Russia remembers Kursk disaster
Comments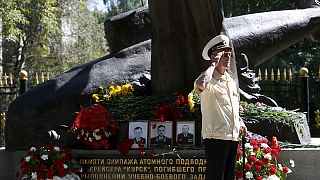 Cities across Russia have held ceremonies remembering the 118 sailors who died when a nuclear submarine sank in the Barents Sea 15 years ago.
Twelve of them are buried in the southwestern town of Kursk, which lent its name to the vessel.
The incident is mired in controversy because Russia initially declined foreign help to save the men.
"I think there is no doubt that 15 years ago, during that Kursk catastrophe that not everything possible had been done to rescue the crew. There was nothing to rescue them with," said Igor Kurdin, chairman of the Club of Submarine Officers.
"But the most important thing is that we rejected — and we've been thinking for too long whether we should accept — foreign help," he added.
Norwegian divers were eventually called in but ten days after the disaster they opened the hatch to find everyone dead.
The Kursk sank after an explosion of fuel from an old torpedo.
It prompted a fire causing all ammunition on board to detonate.