OAS observers back Haiti poll despite irregularities
Comments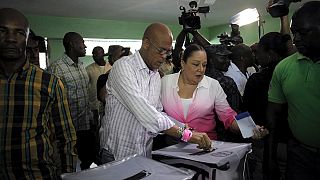 International observers have criticised Haiti's parliamentary election, saying the vote was marred by irregularities,
Two people reportedly died on Sunday whilst casting their ballots.
The Organization of American States pointed to the shuttering of some polling stations owing to acts of violence.
But the OAS chief of mission, Enrique Castillo, said irregularities were not sufficient to affect the outcome of the election.
Nearly six million voters were eligible to choose the new members of the Chamber of Deputies and the Senate.
They could pick from more than 1,800 candidates registered from different political parties.
The elections had been repeatedly postponed since 2011, with President Michel Martelly ruling by decree since January.
Martelly is barred by Haiti's constitution from running for office again in October's presidential election.