IAAF bans 28 athletes who tested positive to drugs from 2005 and 2007
Comments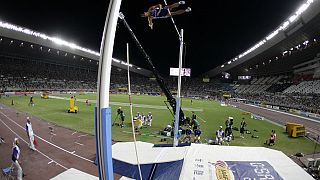 The IAAF began disciplinary action on Tuesday against 28 athletes, whose drug tests from the 2005 and 2007 world championships returned adverse findings following extensive retesting.
The world athletics governing body declined to name any of the athletes due to "legal reasons", though it is understood that the majority of the 28 are in fact retired or already serving suspensions.
"The IAAF is provisionally suspending them (the 28 athletes) and can confirm that none of the athletes concerned will be competing in Beijing," a statement from the body said.
The latest analytical findings came as a result of the IAAF's success in retesting urine samples from the Helsinki championships in 2012, where six athletes were found to have doped.
A subsequent round of retesting in April this year resulted in the discovery of 32 new adverse findings, which allowed the IAAF to provisionally ban the 28 athletes.
The IAAF has promised to "correct the record books and re-allocate medals as necessary," if the athletes are found to have been under the influence of performance enhancing drugs.
The statement, however, rejected the notion that the IAAF only started retesting samples amid increased media scrutiny from Germany and Britain, saying the reanalysing "commenced well before" the allegations of the broadcaster ARD and The Sunday Times newspaper that blood doping was rampant in the sport.
The samples were retested with improved scientific methods which yielded previously undetectable substances.
The IAAF also took advantage of the new statute of limitations for the testing of stored samples, which was recently extended from eight to 10 years.
"The findings reconfirm, yet again, the commitment of the IAAF to target and uncover all cheating in the sport, no matter how long it takes," the statement concluded. Article by Hugo Lowell