Forest fires: are some being started deliberately?
Comments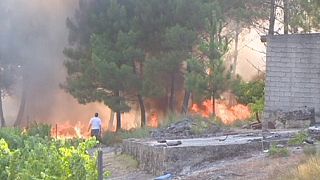 Forest fires are raging across the northwestern Iberian peninsula, threatening homes and livelihoods.
A large fire in Mangualde in Portugal has now been brought under control.
Bombeiros em Mangualde não têm mãos a medir com tantos fogos http://t.co/UGwiXBvWjVpic.twitter.com/sETHyHvHXU

— sapo (@sapo) 10 Août 2015
80 percent of the country is experiencing severe drought conditions, low rainfall and temperatures of up to 40 degrees.
More than 28 000 hectares of scrubland have been laid waste from the beginning of 2015 until the end of July.
More than a thousand firefighters are currently battling the flames.
So far there have been no reports of any casualties.
A man has been arrested in the centre of the country on suspicion of arson.
#Untes village surrounded by flames of a forest fire declared risk level 2 Ourense, Galicia, northwestern Spain EP pic.twitter.com/x5bVPzWpu0— TwoTechniks (@TwoTechniks) 2 Août 2015
Using whatever they could find, locals pitched in to help firefighters as the flames approached in the village of Ourense in Galicia in northern Spain.
Blazes broke out simultaneously in three separate locations, stretching emergency crews to the limit.
Arson fears
Europe is in the grip of a heatwave but Spain and Portugal have particularly suffered.
Thousands of people have been evacuated from their homes in fire-affected areas.
It is not clear how the fires began.
Officials suspect, however, that over a third of all forest fires are started deliberately.
There is some good news. The government says that, despite the number of fires and the extreme heat, the area affected is 20 percent less than the average over the past ten years.