Two killed, one seriously injured, in Ikea knife attack
Comments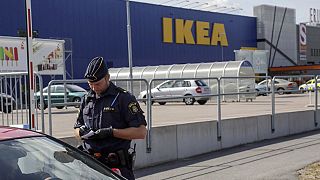 A knife attack in an Ikea store in Sweden has left two dead and a third seriously injured.
Police were called to the store, in the city of Vasteras, about an hour west of the capital Stockholm, around 13.00 local time
"We found a man and a woman who had knife injuries and who later died of their wounds," local police said. The motive of the attack was unclear.
A 35 year-old man was seriously injured, Swedish television reported.
Lena Moren, head duty nurse at Vasteras hospital, told SVT: "He was brought in from the site of the incident with life-threatening injuries."
Police had cordoned off the IKEA store and begun interviewing witnesses.
The public broadcaster showed pictures of one person been loaded into an ambulance with hundreds of shoppers outside the cordoned-off store.