Turkey: several lives claimed in a string of attacks
Comments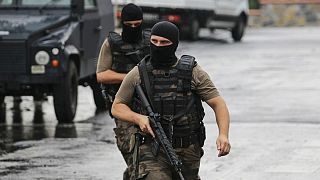 At least three attacks against government buildings and the security forces have been carried out across Turkey.
She said she had come to avenge Suruç
Two female militants targeted the US Consulate in Istanbul.
Gunfire at US consulate in Turkey as wave of attacks kills eight http://t.co/KlDLU3Gy7Upic.twitter.com/x5rQmEmbs6

— Business Insider (@businessinsider) 10 Août 2015
No one was killed in the assault. Officers detained one fighter after she was injured.
The far-left, and outlawed, Revolutionary People's Liberation Army Front on its internet site to be behind the attack.
It would seem to be political. The group has previously said it carried out a suicide attack on the US embassy in Ankara in 2013.
Bystanders, though, have questioned the motive.
"The police were shouting at the woman to drop her bag," said one eyewitness. "She refused to surrender, she said she had come to avenge Suruç."
There has been outrage after a bomb was detonated last month among a crowd of aid workers gathering in the town of Suruç ahead of a humanitarian trip to the devastated Kurdish town of Kobane.
Two further attacks
Twin attacks on the U.S. consulate and a police station rock Istanbul http://t.co/CmuyjjfZlKpic.twitter.com/dJsgEVAfAW

— Daily Mail Online (@MailOnline) 10 Août 2015
Elsewhere in Istanbul, a police officer and two suspected attackers died in the ensuing fighting after a car bomb went off outside a police station.
One attacker was killed when the bomb was initially detonated. Ten people, including three police officers, were injured.
Further afield, four police officers died when their vehicle was hit by a roadside bomb in Silopi in the province of Sirnak.
Why is this happening now?
Monday was one of the most violent days in Turkey's recent history.
Experts have been warning of a potential surge in violence since the government began operations against the self-titled group Islamic State and Kurdish PKK militants last month. This, in turn, was in the wake of the attack in Suruç.
A final round of government coalition talks are due on Monday night. Hopes are pinned on them finding a solution to the growing violence.