Parents leave girl, 3, at French motorway services
Comments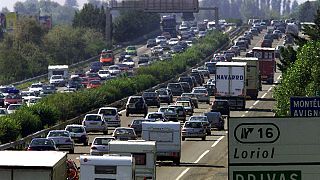 A family on their way to the South of France drove more than 150 kilometres before realising they had left their three-year-old daughter at a motorway service station.
And the couple only worked out their gaffe after a national alert was issued on the radio, authorities said.
The youngster was spotted by other holidaymakers at the Bras de Zi motorway station on the A7 Autoroute du Soleil, near Loriol, south of Valence.
Police said the girl told them she had a brother and a sister and they were on their way to the seaside when she saw "daddy's car pull away", according to AFP.
The family had reached Aix-en-Provence, more than 150 kilometres away, and heading towards Saint Raphael, "and none of them had noticed she wasn't there", police added.
The family were reunited two hours later.
Officers say they will talk to the local prosecutor to determine whether the parents will be charged.
David Cameron, the British Prime Minister, and his wife, forgot one of their children in a pub after having Sunday lunch.
The daughter had gone to the toilet while the couple made their way home in separate cars. On arrival they found that neither had Nancy, 8, and returned to the pub to find her helping staff.