Argentinians go to the polls to decide who will run for president
Comments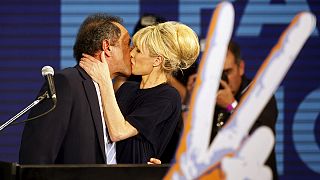 Argentinians went to the polls on Sunday in the country's presidential primary election.
The vote is to decide which candidates will represent the various parties at the presidential election on October 25.
The exit polls have ruling party candidate and Buenos Aires Governor Daniel Scioli ahead in the race.
He favours gradual change whereas rival Mauricio Macri, the business-friendly mayor of the capital, favours faster reform to free up the markets after eight years of leftist government under President Cristina Fernandez de Kirchner.
She can vote in this election but the constitution prevents her from standing for a third term.
"From 1983 until today, above all for the presidential election, it's always been in a complicated context", Kirchner told reporters."Now in that sense we're in a situation never seen before – Argentinians can vote in a calm atmosphere."
Although the primary election is to choose candidates, voters are free to cross party lines. As such Sunday's vote is seen as a dry run for the October poll.
Initial results were due late Sunday night.
To win outright in October, a candidate would need 45 percent of votes cast, or 40 percent with a 10-point margin over the second place candidate.