Ten-year-old girl from Bahrain becomes youngest ever swimmer at a world championships
Comments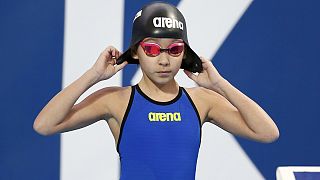 A ten-year-old girl from Bahrain has become the youngest ever swimmer at a world championships.
Alzain Tareq, who was born in 2005, took part in the 50m butterfly and freestyle heats hosted by the city of Kazan in eastern Russia.
Her time of 41.12 in the butterfly was the slowest and 38.2 in the freestyle also put her at the back of the pack but time is at least on her side since she is so much younger than the other competitors.
Alzain's ambition is to compete in the 2020 Olympics in Tokyo.