French hostage arrives in Paris after months held captive in Yemen
Comments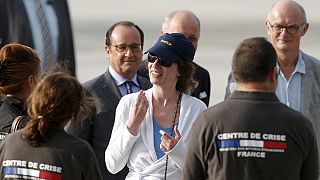 Back home, a Frenchwoman abducted in Yemen in February has arrived safely in Paris after being freed by her captors.
Development worker Isabelle Prime was greeted by her family and French President Francois Hollande.
French hostage freed in #Yemen after six-month ordeal http://t.co/1YQMK0nL82#IsabellePrimepic.twitter.com/91BNXaptgZ

— Agence France-Presse (@AFP) August 7, 2015
French authorities have declined to give details on whether a ransom had been paid.
"My detention lasted for approximately five months but I knew that France was behind me because it has never abandoned one of its citizens. I would like to thank also the services who took care of my family and who have taken care of me upon my arrival in Oman," Prime told the press gathered at Villacoublay air base.
"The liberation of Ms. Isabelle Prime shows again that France never abandons its own" — LaurentFabius</a> <a href="http://t.co/fSrPwezbop">pic.twitter.com/fSrPwezbop</a></p>&mdash; France Diplomacy (francediplo_EN) August 7, 2015
Nous sommes très heureux d'accueillir Isabelle Prime chez elle en France. Elle a fait preuve d'un grand courage, elle a honoré la France.

— François Hollande (@fhollande) August 7, 2015
"French citizens in danger zones must take precautions and not put themselves at risk," remarked French President Francois Hollande. "There are some who are forced to do so – that is their mission – but others must be careful."
Prime was abducted along with her translator Shereen Makawi in Sana'a while heading to work. Makawi was released in March. In June a video appeared on Youtube showing Prime making an appeal to the French President to be released. French authorities said that she was released as her captors had been about to kill her.