Boy, 11, charged with shooting three-year-old
Comments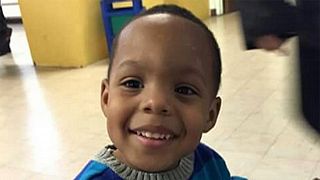 Authorities In Detroit, USA, have charged an 11-year-old boy with manslaughter after he accidentally shot a three-year-old.
The youth was visiting his father when he removed a handgun from his closet and threw it out of the window. He later retrieved the weapon and jumped into a parked car while carrying the gun.
A while later, three-year-old Elijah Walker got into the vehicle and was shot in the face, authorities said. He was pronounced dead in hospital.
Wayne County Prosecutor Kym Worthy said: "I cannot remember a time when we have charged someone so young with taking a life. Very unfortunately and very tragically, the alleged facts in this case demanded it."
The boy is said to have looked lost and spaced out while sitting in the courtroom, according to the Detroit Free Press.
His lawyer argued whether the youth, who has not been named, is competent to face such charges and experts are unsure whether it can be proven that he had criminal intent.
The family of the three year old have started a GoFundMe page to help with the cost of the funeral.
"Our sweet baby boy, Elijah Walker, was taken away from us way too soon at only 3 years old," the page says.
"Elijah was always on the go with his incredible amount of energy and never failed to give anyone his million dollar smile. He loved playing with his two older sisters and cousins."