Tributes paid to missing Russian freediver Natalia Molchanova
Comments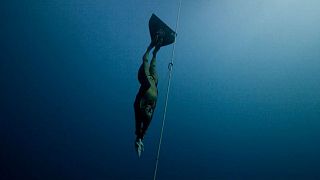 Tributes have been paid to a freediving champion who is missing-feared-dead after disappearing off the Spanish island of Formentera.
Natalia Molchanova was diving for fun near Ibiza when she went missing on Sunday (August 2). Search efforts are continuing for Russian Molchanova, 53, amid fears she may have been caught up in strong underwater currents.
Molchanova is the most decorated freediver, with 41 world records and 23 world championship titles.
Yulia Petrik, who along with Molchanova helped pioneer freediving in Russia, paid tribute to her compatriot. She told Euronews: "The uniqueness of what she had done – it shows the indication of limitless human possibilities".
"She started practicing freediving when she was 40 years old. Usually at this time people retire from the sport. Natalia has shown for everybody in the world that human capabilities are unlimited. Almost all world records were made by her."
"Natalia and I, we have been doing freediving for a long time. It would be good if people do not think that this is some kind of extreme sport. In freediving there are far fewer accidents than in racing or snowboarding, for example."
New Zealand freediving champion William Trubridge also paid tribute to Molchanova, saying the world had lost its greatest diver. He said she was an "indomitable but sweet woman".
'World's greatest freediver' Natalia #Molchanova feared to have drowned http://t.co/Qo26opZnSy#ZippedNewshttp://t.co/AcIo8UVQtX

— News in Summary (@news_in_summary) 5 Août 2015