Israel approves detention without trial in crackdown on Jewish extremists
Comments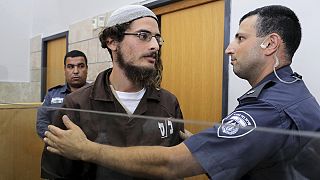 Israeli authorities on Tuesday jailed a suspected Jewish militant without trial.
Mordechai Meyer has been placed under "administrative detention" for six months.
The government has vowed to crackdown on extremists after an attack last Friday on a Palestinian home in the West Bank killed a toddler.
Two other suspected ultra-nationalist Jewish militants, Meir Ettinger and Eviatar Salonim have also been arrested.
"We plan to fight Jewish terrorism without any compromises", Israeli Defence Minister Moshe Yaalon said on Monday.
" This is a struggle over the image of the state and we have no intention of giving up on this struggle. The cabinet has reached some important decisions, including my recommendation to carry out administrative detention."
The Palestinian toddler died and his family were injured when their home in the West Bank was set alight by suspected Jewish militants.
The government says detention without trial is required to prevent further violence in cases where there is not enough evidence to prosecute.
The new measures have been approved by Prime Minster Benjamin Netanyahu's security cabinet.