Greece: Anti-austerity protesters denounce 'ever-closer' bailout deal
Comments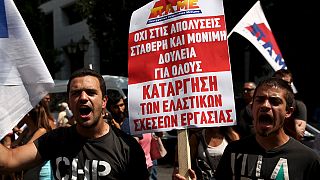 Anti-austerity protesters marched on the streets of Athens on Wednesday as Greece moves closer to concluding a deal with lenders on a multi-billion euro bailout.
For Prime Minister Alexis Tsipras, talks are in their "final stretch".
But demonstrators reject the reforms they say Tsipras will impose in return.
"It is patently obvious that in September, when the lucky few who have taken a holiday return, they will find new taxes, new salary cuts, new measures against workers," said civil servant Manolis Dandoulakis, one of those taking part in the rally outside the Labour Ministry.
"And it is now apparent that the people must say a thunderous 'no.'"
As for the talks, in a process previously fraught with bitterness, both Greece and its international creditors are hopeful that a deal can be obtained within days.
Tsipras says Greece 'close' to concluding deal with lenders http://t.co/iqvyIheUY9pic.twitter.com/OgOnrMtNzs

— Kathimerini English (@ekathimerini) 5 Août 2015
"We have a task to complete – an agreement within the next ten days -and we are working in this direction," Greek Economy Minister George Stathakis told reporters.
"Are you optimistic that on the 18th or the 17th of August, it will be?" he was asked.
"We hope it will be in place, yes," he said.
But turbulence continues.
On Wednesday in Greece a number of domestic and international flights were cancelled in a stoppage by air traffic controllers.
The controllers want their government agency to be restructured and an independent one set up in line with European Union rules.
Moreover, the prospect of early elections this autumn is looming in Greece, following the anti-reform rebellion in the ruling Syriza party.