Yemen conflict: Hadi loyalists seize largest military base from Houthis
Comments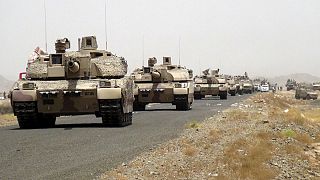 It is claimed fighters loyal to Yemen's exiled president Abd-Rabbu Mansour Hadi have seized the country's largest military base from Houthi forces.
The recapture of al-Anad came after heavy combat, in which dozens were killed or captured, according to a pro-Hadi commander.
If confirmed, the victory – bolstered by Gulf Arab support – would mark another significant gain for the loyalists, who have already driven Houthis from the southern port of Aden.
Retaking the base also opens up the road north to the city of Taiz, where Houthi militia have been taking on local fighters siding with Hadi.
There was no word from the Houthis on the outcome of the battle. The Houthi-run Saba news agency said earlier that Saudi-led air raids had repeatedly struck the military base.
President Hadi fled to Saudi Arabia in March, as the Houthis advanced on his refuge in Aden, and he remains there.
Riyadh, which has thrown its support behind Hadi, claims the conflict is a proxy war in Iran's efforts to expand its influence in the region.