UN peacekeeper killed in CAR violence
Comments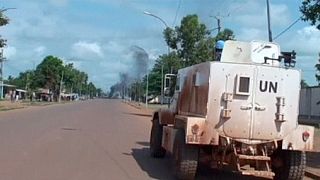 At least one United Nations peacekeeper was killed on Sunday in clashes with armed insurgents in the Central African Republic.
It happened early in the morning in a northern neighbourhood of the capital Bangui.
The country has been riven by violence between Christian and Muslim militia groups since 2013 when predominantly Muslim Seleka rebels seized power.
Elections aimed at restoring democratic rule are due to take place later this year.