Ukrainians protest against a planned "buffer zone"
Comments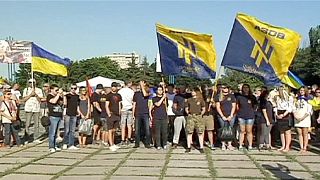 Hundreds of people gathered in the Ukrainian port city of Mariupol on Sunday in protest at plans to create a demilitarised buffer zone between Kiev troops and pro-Russian rebels.
The move would include pulling back troops and heavy arms from the the coastal area of Shyrokyne, but many Ukrainians are nervous of such a move and fear it will play into the hands of the separatists.
"We are against the demilitarisation of Shyrokyne", said Mariupol volunteer Vlada Yegarova. "Because we think that the creation of a buffer zone will create another passage for terrorists into Mariupol and there will be no defence."
Another volunteer, Maria Podybailo, added: "The population of Mariupol is very worried because they do not understand the plan to pull artillery and tanks from the front line. We understand that you shouldn't talk to the aggressor in such a way. Aggressors understand only force."
The move is part of Ukrainian President Poroshenko's efforts to pull back heavy arms and troops from the front line in the East in a bid to implement a ceasefire agreement reached in Minsk, the capital of Belarus.
The ceasefire might exist on paper but has been continually broken in the East despite the presence of international observers.
On Sunday Poroshenko visited the Donetsk region, which has seen some of the most frequent fighting and worst destruction of the conflict.