Italy arrests Mafia suspects after cracking Cosa Nostra's secret code words
Comments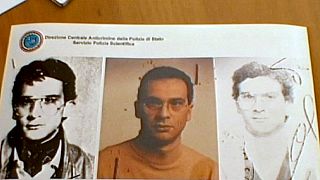 Italian police have arrested 11 suspects linked to the fugitive mafia boss of Sicily's Cosa Nostra, after cracking a secret sheep-farming code for exchanging messages.
ti ho messo la ricotta da parte, passi più tardi?
The suspects are believed to be close associates of Matteo Messina Denaro, Italy's most wanted Cosa Nostra fugitive who has been on the run since 1993. Once a fearsome hitman for the Cosa Nostra with a reputation for womanising and fast cars, Denaro is thought to have succeeded Bernardo Provenzano as 'capo di capi' or 'boss of bosses' of the Sicilian organised crime scene when Provenzano was arrested in 2006.
Although a fugitive, Denaro continues to communicate with associates by using 'pizzini', small scraps of paper left under rocks or buried in the ground and which contain secret coded instructions. Between 2011 and 2014 police monitored a farm in western Sicily used by the suspects, hiding cameras and microphones around the premises to glean clues.
The cryptic codes they heard include "I've put the ricotta cheese aside for you, will you come by later?" and "The sheep need shearing…the shears need sharpening." It's not thought the ultimate meaning was farming related, rather it was to alert associates to the fact that a new 'pizzino' had been left.
One of the men arrested on Monday was 77-year-old Vito Gondola, a key player in this communication system. Investigators say Gondola talks in one conversation about how Denaro's authority was being eroded by the new generation of criminals and that the 'vecchia (old-school) mafia' had to come to his rescue.
Italy's Prime Minister Matteo Renzi took to his facebook page to thank those who led the investigation, while Interior Minister Angelino Alfano announced via Twitter that "the state wins, the mafia loses".
Police official Renato Cortese said after the arrests that the suspects were "the men closest to Denaro right now" but that it would not necessarily mean the net would close on Italy's most wanted Mafia boss. Given the talent for hiding of mafia godfathers in Sicily's rugged landscape and the law of silence, 'omertà', that still counts for much on the island, getting a concrete lead on Denaro's whereabouts is far from a foregone conclusion.
Presi questa mattina vertici di #CosaNostra e presunti favoreggiatori del boss latitante #MessinaDenaro. Lo #StatoVince la mafia perde.

— Angelino Alfano (@angealfa) August 3, 2015
Cosa Nostra ('Our Thing') was born in the lucrative Sicilian lemon groves of the 19th century. A loose affiliation of crime syndicates, known locally as coschi, it became entrenched in Sicilian politics to maintain its power. Suppressed by the fascist Mussolini regime in the 1920s and 30s, some of its most powerful members such as Carlino Gambino emigrated to found mafia families in New York and other North America cities.
After World War II, Cosa Nostra enjoyed a resurgence fuelled by smuggling and racketeering until in-fighting and a government crackdown in the wake of some high profile assassinations and child kidnappings sent its leaders underground.
When Cosa Nostra killed prominent anti-mafia judges Giovanni Falcone and Paolo Borsellino in separate bombings in 1992, it led to a public outcry and a massive police operation that succeeded in capturing the 'boss of bosses' at the time, Salvatore Riina, who had led the organisation into a murderous campaign of violence.
When Provenzano took over as 'capo' he ceased the violence and brought the organisation into a more discreet and quasi-religious – albeit still criminal – era. He also introduced the pizzini system of communication. Having been on the run from police for 43 years – there are grounds to believe police had not been searching too hard to find him, and those that were trying had only a decades-old photograph to help them – Provenzano was eventually captured in a farmhouse in his native town, Corleone, in 2006.
Years of mass arrests and stiff competition from other mafia organisations such as Naples' Camorra and the Calabrian 'Ndrangheta have weakened Cosa Nostra's power and influence over the last two decades.