FIFA President Blatter relinquishes IOC membership
Comments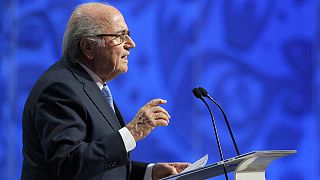 FIFA President Sepp Blatter relinquished his ex officio IOC membership seven months before he is due to retire from his post, IOC President Thomas Bach said on Monday.
Blatter would ordinarily have been re-elected for another eight-year term through standard procedure, but would have been required to stand down when he concludes his term as head of the international soccer federation next February.
"Mr Blatter wrote me a letter on July 23 informing me that it would be inappropriate to seek another eight-year term as he was retiring from his position at FIFA in seven months when a new president will be selected on Feb. 26," said Bach at the ongoing IOC session in Malaysia.
The 79-year-old Swiss, however, would have still been forced to lay down his mandate next year when he attains the age of 80, the maximum age for IOC membership, even if elected for another eight year term.
Blatter was re-elected as FIFA president for a fifth time on May 29 but announced he would stand down just four days later.
FIFA was thrown into turmoil days before the presidential election as numerous officials and marketing executives were arrested for bribery, money laundering and wire fraud, though Blatter himself was not indicted.