Fatal floods batter India, Myanmar, Pakistan, Vietnam and Nepal
Comments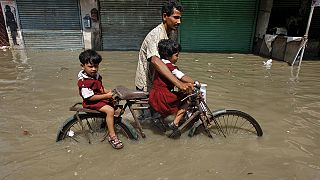 Parts of South East Asia have been battered by fatal floods.
The Indian state of Manipur has been under incessant monsoon rains for several weeks.
After 28 days of curfew & lock-down in #Manipur Northeast #India~now compounded by flash floods inundating many areas pic.twitter.com/ao52dslF63

— Binalakshmi Nepram (@BinaNepram) July 31, 2015
Indian media are reporting that a whole village, close to the border with Myanmar, has been buried under a landslip.
Read more about our work helping those affected by floods in India in this @Guardian article http://t.co/yQXiaVZprspic.twitter.com/3cRP8To6J9

— Animal Protection UK (@MoveTheWorldUK) August 3, 2015
The torrential rains have damaged local infrastructure and washed away bridges and roads.
More than 180 die in floods in Bengal, Gujarat, Rajasthan, Odisha http://t.co/sBlcXuwTrqpic.twitter.com/Q9U8BJ71oW

— India TV (@indiatvnews) August 3, 2015
In Myanmar 27 people have been killed in four regions in the west of the country.
We are deeply saddened by reports of the loss of life and property due to recent flooding throughout #Myanmarpic.twitter.com/lcc7035sJB

— U.S. Embassy Burma (@USEmbassyBurma) July 28, 2015
The regions have been declared disaster zones.
Aid agencies are growing concerned about the fate of the refugee camps housing thousands of displaced Rohingya Muslims.
It is reported that Rohingya Muslims are being turned away from shelters in Rakhine state.
#Myanmar Floods: #Rohingya#Muslims turned away from flood shelters... http://t.co/G1kjoJctxB#Islam#Ummah#Burmapic.twitter.com/4pJRkjWkUE

— DOAM (@doammuslims) August 1, 2015
It is feared that the heavy rains look set to continue over the coming weeks exacerbating the problems in both countries.
Many fatalities have also been registered in Pakistan, Vietnam and Nepal.