Costa Rica pilgrims walk on their knees to shrine
Comments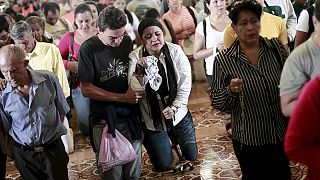 Crowds of devout Catholics in Costa Rica have been making the annual pilgrimage to pay homage to the Virgin of Los Angeles in Cartago near the capital San Jose..
Some worshippers take days to walk the journey and many approach the Basilica on their knees.
The statue of the Virgin, which is just 20cm tall, is encased in a small gold shrine and is an important part of the country's religious traditions.