Company hails breakthrough in Fukushima nuclear clear-up
Comments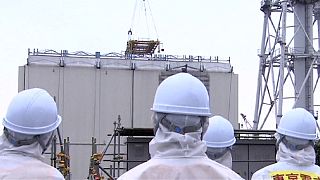 The company that operates the stricken Fukushima nuclear plant in Japan, says it has managed to remove a 20-ton fuel handling machine from one of the plant's reactors.
The Tokyo Electric Power Company, TEPCO, said the operation in reactor three took months of preparation.
The machine was lifted from the the spent fuel pool using two 600-ton cranes.
TEPCO said its removal clears the way for removing the rest of the 514 spent fuel assemblies in the pool.
The Fukushima nuclear plant was extensively damaged as a result of a massive earthquake and tsunami in 2011.
The company has faced a stream of legal cases and compensation claims over the disaster and some of its executives at the time could still face charges.
Tens of thousands of people are still in temporary housing four years after the accident.