Catalan officials seek fresh elections
Comments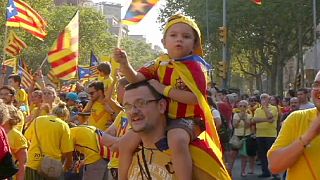 Catalans are set to go to the polls next month. Once again, independence for the autonomous region is on the agenda.
The region is one of 17 in Spain which have its own government and parliament.
Catalan authorities are in charge of the courts, police and education.
Last week, Catalan officials presented plans for a future Catalan tax agency and adopted a decree paving the way for a public credit institution to be turned into a Catalan central bank.
Catalonia is one of the richest parts of Spain; it accounts for 20 percent of the country's GDP with strong manufacturing and service sectors.
That is why supporters of Catalan independence say the region should split from Spain.
As an independent country, it would have total control over its own budgetary and fiscal affairs.
80 percent backed independence in a referendum last year, but the result was not recognised by Madrid.
The president of Catalonia, Artur Mas, sees the next elections as a fresh vote on independence.
He says that if separatist parties do well at the ballot box, it will only strengthen the case for a split from Spain, perhaps within the next 18 months.