Pilot dies after Russian Army Games air display goes wrong
Comments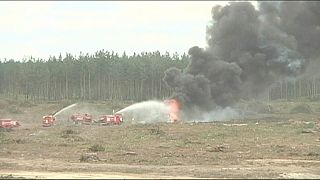 A pilot has died after a Russian military helicopter crashed during an show at Dubrovichi air field as part of the International Army Games.
After spinning out of control the helicopter hit the ground, catching fire.
Event organisers said a second pilot ejected and was in hospital.
According to the RIA news agency, a Russian air force commander order all MI-28 helicopters grounded until the cause of the crash is determined.
The Russian-hosted games are expected to continue until mid-August.
Teams from 16 other countries are taking part in competitions organised by the Russian Defence Ministry.