Latvala edges out Ogier in Finland
Comments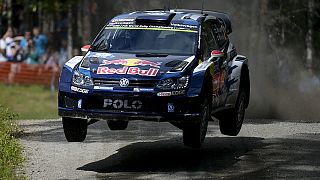 Welcome back to Speed, French driver Sebastien Ogier has proved unstoppable so far this season, clinching his fifth win in seven races at the Rally of Poland last month. This result saw the two-time champion extend his overall lead to 78 points over nearest rival Andreas Mikkelsen but was he able to confirm in Finland?
Home advantage
Local favourite Jari-Matti Latvala stayed clear of Volkswagen team-mate Sebastien Ogier through Sunday morning to clinch a second straight Rally Finland victory.
The Finn began the day 13.2 seconds clear of the double world champion and extended his advantage by a further 0.9 seconds en route to a convincing win on home soil.
Norway's Mads Ostberg was third for Citroen, his third podium of the season, one minute and 36 seconds behind the winner.
Ogier is now 89 points clear of Latvala in the overall standings going into the next race which will take place in Germany on August 23.
Defying the odds
Finland's high-speed gravel stages have played host to some amazing battles over the years. With better knowledge of the terrain, Scandinavian drivers tend to dominate proceedings here but let's go back in time to 1990 as Carloz Sainz defied the odds to fend off the favourites and clinch the event.
Carlos Sainz's extraordinary career in the World Rally Championship spanned 196 rallies over 18 seasons. In 1990, the Spaniard overcame a broken ankle to prevail in Finland, becoming the first non-Scandinavian to win the 1000 Lakes event.
After taking the lead early on, Sainz stayed in front to the finish, earning the respect of fans as he drove despite being in significant pain throughout the race.
Red-flagged final
Italy's Antonio Giovinazzi overcame poor weather conditions to clinch a red-flagged final race at the Red Bull Ring.
After heavy rainfall throughout the morning, and a delay of nearly two hours, the race got underway behind the safety car before it was red flagged after just four laps.
Although the race was restarted with five minutes left on the clock, it lasted for just another lap-and-a-half before being stopped for good.
Half points were awarded, with Giovinazzi taking his fifth win of the year ahead of nearest rival Felix Rosenqvist. Sergio Sette Camara came home third while Markus Pommer just missed out on a podium finish.
Motocross world championship
Well that's all we have time for but join us next week for another edition of Speed where we'll be looking at the MotoGP in Indianapolis. In the meantime we end the program with some of the best moments from this weekend's motocross world championship event in Belgium. See you soon.