West Bank: Hundreds attend funeral for Palestinian protester amid increased tensions
Comments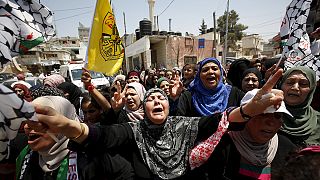 Amid increased tension in the West Bank, hundreds have attended the funeral of an 18-year-old Palestinian protester.
The Israeli military says it shot him near Ramallah on Friday after he hurled a fire bomb at troops.
It came after suspected Jewish settlers set fire to a West Bank home, killing an 18-month-old Palestinian boy as he slept.
The attack – which also left the toddler's parents and brother badly hurt – has drawn Palestinian anger and widespread Israeli condemnation.
There have been clashes with Israeli security forces. Stone-throwing between Israeli settlers and Palestinians has also been reported in the West Bank.