NAACP march to Washington begins with civil rights rally in Selma
Comments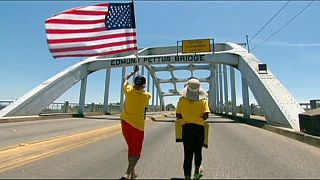 The NAACP has launched a 40-day march across the US South on Saturday (August 1) with a rally in Selma, Alabama, aiming to draw on that city's significance in the 1960s civil rights movement to call attention to the issue of racial injustice in modern America.
Organizers of "America's Journey for Justice" want to build momentum behind a renewed national dialogue over race relations that was prompted by the killing of a number of unarmed black men by police officers over the past year.
Organizers, led by the National Association for the Advancement of Colored People (NAACP) say the outcry triggered by police killings in Ferguson, Missouri, and New York City's Staten Island a year ago needs to be channeled into a long-term commitment to bring about change.
The march will feature "teach-ins" and other events in five states – Georgia, South Carolina, North Carolina and Virginia – as it makes its way to the US capital in Washington, DC, where organizers hope to draw thousands at a final rally on September 16.
The NAACP aims to bring attention to racial injustice across issues like policing, public education, incarceration, voting rights and income inequality.
The inaugural rally in Selma took place at the historic Edmund Pettus Bridge, where police beat peaceful marchers with clubs and doused them with tear gas, in an incident that became a catalyst for the passage of the landmark Voting Rights Act, signed into law in 50 years ago this week.
After two aborted attempts, civil rights activists led by the Rev. Martin Luther King Jr. eventually marched from Selma to the state capital of Montgomery in 1965 to build support for the legislation, which seeks to protect the rights of minority groups to vote.
Saturday's march comes almost a year after the shooting death of Michael Brown by a white police officer in Ferguson, Missouri, a slaying that led to widespread protests and debate about US race relations.