Funeral of Whitney Houston's daughter overshadowed by family feud
Comments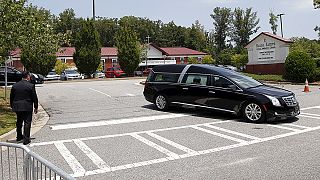 The funeral has taken place in the US state of Georgia of the only child of singers Whitney Houston and Bobby Brown.
The private service for Bobbi Kristina Brown, held in Atlanta, was marred by tensions in her family.
Bobbi Kristina Brown died on July 26, six months after being found face-down and unresponsive in a bathtub in the Georgia home she shared with her partner Nick Gordon, eerily similar to how her mother Whitney Houston was found drowned in 2012.
An initial autopsy this week found no obvious underlying cause of death but investigators are still looking into the case. A $10 million civil lawsuit was filed against Brown's partner Nick Gordon accusing him of causing "life threatening injuries" and stealing from her bank account while she lay in a coma.
Brown is expected to be buried at a New Jersey on Monday alongside her mother.