US Marines face a reduction in numbers in the debate over defense cuts
Comments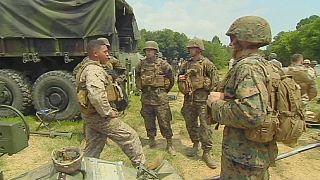 The US Marines are caught in a war of political words, a conflict over cuts to the US military. Under the Budget Control Act of 2011 – bringing in automatic spending cuts – around 500 billion dollars will come out of the US Department of Defense's budget in the next decade.
They come at a time when Republican presidential candidates are calling for more "US boots on the ground" in areas of conflict like Iraq and Syria to fight the militant group ISIL.
A reduction in marine numbers could affect one of the most revered institutions in the US. Euronews visited the Marine Corps Basic School at Camp Barrett, Quantico, Virginia.
"Being a Marine is an attitude, it's a mindset. Knowing that the mission is never done, it's constant improvement," said Second Lieutenant Andrew McCormack.
Lieutenant Colonel Dane Hanson added: "I knew that coming here that physically you'd be challenged, morally you'd be challenged and intellectually you'd be challenged. Nowhere else can you put that into one entire package and get the same exposure. Plus, we're working with the best people in America right now."
But how ready will the Marines be in the face of a tightened budget? Numbers point to a reduction in the last three years of around 18,000 personnel to 184,000. The corps will lose another 2,000 in the next two years if the planned cuts become effective.
John McCain, chairman of the Senate Armed Forces Committee has warned the move has "reduced readiness," and fears that if sequestration returns again the corps will be left with 174,000. The Marines, he argued will be ill-prepared and ill- equipped to respond to a crisis or major contingency.
At the same time demand remains high among recruits to join up and to train for combat.
"There is no such thing as 'start training now!' It's continuous training. So I'm very confident that in the leaders that are going to be over there with me and I know that everything that they have given me, I'll be able to use and I'll come back safely," explained Staff Sergeant Luwanda Ruiz.
Since the fighting force was formed in 1775 the Marines have build a legend based on grit and raw courage in theatres of combat like Iwo Jima, Saigon and Fallujah
"As the global threat environment is constantly changing, the Marines remain a core element of the US armed forces. Marine officers are trained to operate successfully – even if they have to choose between bad options. Maybe that's one reason why the Marines are so revered by most Americans," said euronews' correspondent Stefan Grobe.
You've seen it in the films, but this is how you really disarm a gunman. From our correspondent Stefan Grobe's visit to a US Marines training camp.

Posted by euronews on Wednesday, 29 July 2015
US Marines demonstrate how to fire a 155mm Howitzer. Euronews correspondent Stefan Grobe filmed them for a piece on how the military is coping with the demands of modern day conflict.

Posted by euronews on Wednesday, 29 July 2015