Myanmar: Over 7,000 prisoners released in mass pardon
Comments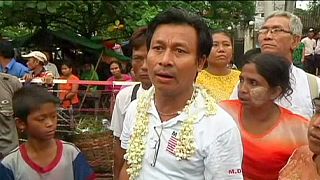 Almost 7,000 prisoners have been released under a mass presidential pardon in Myanmar.
Among those freed are political prisoners and over 200 foreign nationals.
A statement from the country's Information Ministry said the decision to release the prisoners across the country was based "on humanitarian grounds and in view of national reconciliation".
However, some of those released were sceptical of the government's intentions.
Tin Maung Kyi, a freed political prisoner, said he had "just one more month to finish" his jail time and described it as a "show".
Released activisit, Sein Than explained that he did not "think the government has been truly kind because they're still detaining people – the government wants to keep them in jail. They're still inmates, and I include students who are still facing charges. If this is a gesture of goodwill, then they should release all political prisoners," he added.
A total of 155 Chinese citizens jailed earlier this month for illegal logging have been freed. Their detention sparked a diplomatic protest with Beijing saying it was "extremely concerned". China's foreign ministry confirmed they would return home this week.