Hillary Clinton urges Congress to end US trade embargo on Cuba
Comments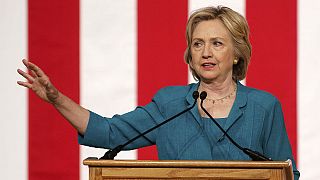 Democratic presidential hopeful Hillary Clinton has urged Congress to end the longstanding US trade embargo against Cuba.
Her call drew a contrast with potential Republican candidate Jeb Bush who has criticised President Obama's move to restore relations with Cuba – because of its human rights record.
"The Cuban people have waited long enough for progress to come," Clinton said on Friday in a speech in Florida.
"Even many Republicans on Capitol Hill are starting to recognise the urgency of moving forward. It is time for their leaders to either get on board or get out of the way."
The US has formally restored diplomatic ties with the Communist-ruled island after over half a century of hostility and mutual distrust.
Amid great fanfare, the Cuban flag was raised over Havana's embassy in Washington in July.
President Obama, who has held historic talks with his Cuban counterpart Raul Castro, has already loosened many restrictions on US travel to Cuba.
Clinton says she would do more to free up travel if elected president, whether the embargo is dismantled or not.