European Youth Olympic Festival - day five round-up
Comments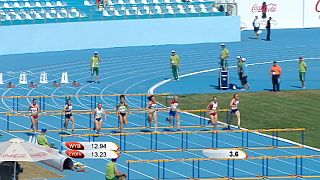 The camera's were out on the fifth day of the European Youth Olympic Festival in Tbilisi Georgia.
A photo finish was needed to hand Julian Andrianavalona of France gold in the boy's 110 metres.
Spain's Luis Salort Asensio had to settle for silver and Italian Christian Faidiga the bronze.
Russian sprinter Kristina Kleshcheva edged out Latvian Paula Sprudzane in the final few centimetres to set a personal best of 13.75 seconds and win the girl's 100 metres hurdles.
Third place went to Slovenian Nika Glojnaric.
Germany's Bo Kanda Lita Baehre cleared 4.92m to win the boys Pole Vault.
Ukrainian Taras Shevtsov and Austrian Riccardo Klotz both passed 4.60m to take silver and bronze respectively – as Shevtsov needed fewer attempts in the earlier stages.
Daria Skrypnik from Russia lit up the gymnastics arena with gold in the girl's uneven bars discipline.
Belgium's Nina Derwael took silver and bronze went to Anastasija Iliankova from Russia.
At the Tbilisi outdoor Aquatic Arena the 200 metre breaststroke gold medal went to Germany's Anna Fehlinger with a time of two minutes and 33.48 seconds.
Sweden's Hannah Brunzell claimed silver and Vanessa Cavagnoli from Italy won bronze.