Ukraine: Civilians killed in shelling amid fragile truce
Comments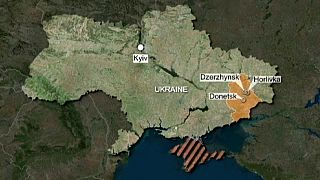 Four civilians are reported dead as Ukrainian forces and pro-Russian separatists accused each other of shelling residential areas near the rebel-held city of Donetsk in eastern Ukraine.
A Ukrainian soldier was also killed in the violence at Dzerzhynsk, north of the regional hub, and Horlivka, 7.5 km away.
People were fixing broken windows in Horlivka as members of the OSCE monitoring mission arrived to inspect the site.
The bloodshed marks the latest deadly episode since the Minsk ceasefire agreement was signed in February.
"They were shelling in the evening and just before four o'clock in the morning. Five shells hit here," said local woman Lyudmila Andreyeva, holding her three-year-old granddaughter in her arms.
"We did not even have time to put on our dressing gowns. I took the child, with the mattress, and put them in the bath."
Fellow Horlivka resident Svetlana Kurdyukova said that one of the fragments killed her 64-year-old friend Nikolai.
An elderly, female relative had a narrow escape, with a hole from the shelling visible in the headboard of her bed.
"Whistle and blast, whistle and blast. Five shells hit here," Svetlana said.
"One fell in the yard next to the pavilion. You must have seen that all the windows got shattered on this side of the building. It flew over granny's head."
More than 6,500 people have been killed since the conflict broke out in eastern Ukraine in April last year.