European Youth Olympic Festival - day four round-up
Comments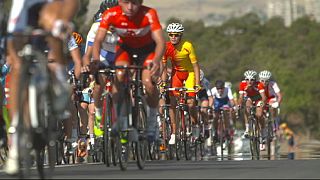 Letizia Paternoster from Italy won gold in the girls road race at the European Youth Olympic Festival in Tbilisi, Georgia.
Denmark's Emma Cecilie Joergensen Norsgaard came second while Clara Copponi of France took bronze.
The Boys road race ended also with mad dash to the line.
Swiss Til Samuel Steriger had more power in the legs than his rivals as he crossed over for gold, silver went to Slovakia's Matus Stocek and Britain's Alfred Brockwell Wright enjoyed bronze.
Viivi Lehikanen beat the festival's record in the 400m hurdles.
The Finn crossed over in 57.74s.
Silver medal went to Iman Jean of France as Marie Skjeggestad from Norway took bronze.
After winning team gold in Artistic Gymnastics, Great Britain's Joe Connor Fraser claimed another by winning the all-around boys discipline.
Russian duo Maksim Sinichkin and Artem Arnaut rounded off the podium.
The home crowd were sent into wild celebrations when Mzia Beboshvili took gold medal in Judo's 52kg weight category beating Ilse Buren of the Netherlands by ippon.
Compatriot Eteri Liparteliani handed the home nation another gold in the 57kg division beating Poland's Anna Paula Dabrowska.