Chile man survives '17th floor' balcony fall
Comments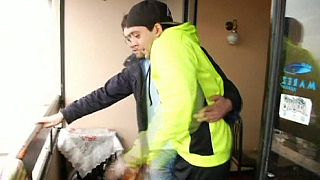 Video footage shows a man who fell reportedly from a 17th floor balcony – and survived.
It happened in Chile in June and the young man who lost his balance while celebrating his country's victory in a Copa America match revisited the scene on Tuesday (July 28).
Sebastian Reyes, who has a tattoo on his arm saying "God Don't abandon me", was released from hospital after suffering only fractures in his pelvis and leg.