Belgian dairy farmers block roads in more price protests
Comments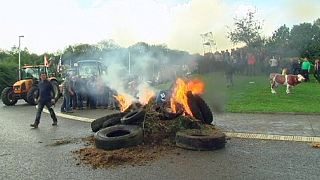 Belgian milk and producers have again protested against low prices by blocking roads.
They say an EU decision to free up production and ending quotas has resulted in a surplus, sending prices plumetting.
At Limbourg near Liege the farmers lit fires outside a milk cream producer they claim is supplied entirely from New Zealand.
There has been similar unrest
in France and Germany. Belgian farmers staged their first protests last week at the country's agricultural fair.
Belgian supermarkets have denied they are responsible for the farmers' plight.
The European Commission announced on Thursday that it was prolonging measures to support dairy, fruit and vegetable producers who have suffered due to the Russian embargo.