Mediterranean crisis: 14 migrants die as hundreds reach Sicily shores
Comments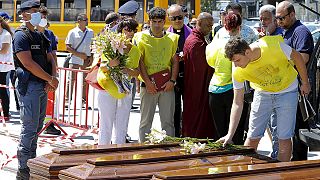 The bodies of 14 migrants have been brought to shore in Sicily, unloaded from an Irish Navy ship which rescued nearly 500 others seeking a better life, from an overcrowded boat off the coast of Libya.
A simple religious ceremony was held at the port of Messina to honour the anonymous victims.
"Death hit many people," said Chiara Montaldo, Sicily Projects Coordinator for the aid agency Medecins Sans Frontieres.
"It was caused by an inhuman journey, as normally happens…The dead were in the hold. This time they didn't drown. They probably died from asphyxiation or from thirst or the heat."
"No pictures can explain this smell of death or the lost gazes of the survivors." Chiara from @MSF_SICILY in #Messinapic.twitter.com/onmgHlMgsy

— MSF Sea (@MSF_Sea) 29 Juillet 2015
The migrants rescued by the Irish ship, mostly of Syrian origin, were taken to Messina.
Separately, nearly 700 other migrants were taken to the Sicilian port of Reggio Calabria by a Medecins Sans Frontieres vessel.
"Most of them are coming from Eritrea so they are fleeing persecution there and you have got many stories," said MSF spokesman Francois Zamparini.
"They know they are taking a high risk to lose their life. But this is the only way for them to flee torture, persecution and so on."
Some 150,000 migrants have reached Europe by sea this year, most landing in Italy and Greece. Over 1,900 others have died during the crossing, according to the International Organization for Migration.