French Foreign Minister latest in line of dignitaries to visit Iran
Comments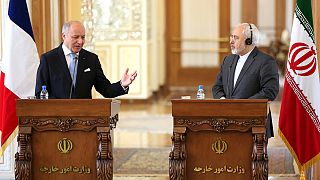 Striking the nuclear accord may have been the easy part… On the first visit in 12 years of a French foreign minister to Iran, Laurent Fabius sought to convince hardliners of the merits of the deal.
"What we aimed for during the nuclear talks was to reach an agreement that is not only useful for Iran and France, but useful for the region, the world and above all beneficial for the Iranian people who will be rid of these sanctions and who will be able to see more development and have more purchasing power," he said.
He extended an invitation from French President François Hollande to his Iranian counterpart Hassan Rouhani to visit Paris in November.
France wishes to secure business deals in Iran, once international sanctions are lifted.
Iranian Foreign Minister Mohammad Javad Zarif implied the Iranian government was eager to build bridges.
"I hope today's visit to Iran by my colleague, Mr Fabius, will help prepare the groundwork for expanding relations and removing the misunderstandings that have overshadowed our relationship in the past," he said.
On Tuesday (July 28), the European Union's Foreign Policy Chief Federica Mogherini met Zarif in Tehran as part of efforts to ensure the July fourteenth nuclear deal leads to something solid, which improves security.
The accord reached between Iran and the 5+1 world powers aims to end a more than decade-old standoff over Tehran's disputed nuclear programme.