Ukraine poised to bring corruption case against Yanukovych
Comments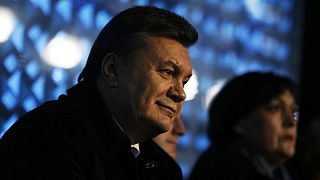 Ukraine looks poised to bring criminal proceedings for corruption and
other offences against deposed President Viktor Yanukovych and a number of former senior officials within his administration.
The ex-strongman fled to Russia in February 2014, amid the
Independence Square revolution.
But now prosecutors have presented preliminary evidence paving the way for a court case against Yanukovych who is also wanted in Ukraine over claims he was behind the shootings of protesters.
For anti-corruption campaigner Vitaliy Shabunin, however, it is all too little, too late.
Shabunin, head of the Anti-Corruption Action Centre, accuses former Prosecutor General Vitaliy Yarema of failing to take action against Yanukovych's Ukrainian assets. It meant accounts were unfrozen, he claims, and lost.
"Could this be called a victory? No," he said, insisting that a criminal investigation should have been carried out six months ago.
"And will Russia extradite Yanukovych? No".
Yanukovych himself, who denies the claims against him, is said to have agreed to give evidence in court via video-link.
Placed on Interpol's most wanted list over claims of financial wrongdoing, Yanukovych's name was recently removed, reportedly after his lawyers filed an appeal.