Turkey: NATO meets in Brussels as Ankara toughens its stance against the Kurds
Comments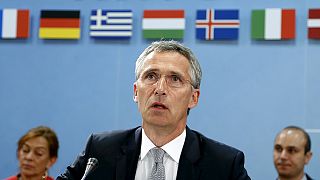 An extraordinary meeting of NATO members is underway at the 28-member organisation's headquarters in Brussels.
NATO holding rare emergency meeting to review Islamic State group threat and Turkey's reaction: http://t.co/JdFaFEgrX8

— The Associated Press (@AP) July 28, 2015
This is only the fifth time they have been brought together under Article Four of the organisation's founding treaty, called by a member who feels under threat.
Turkey has requested four of those five meetings, including this one:
"It is right and timely that we hold this meeting today to address the instability on Turkey's doorstep and on Nato's border," said NATO Secretary General Jens Stoltenberg. "Nato is following developments very closely and we stand in strong solidarity with our ally, Turkey."
While the talks continue in Brussels, there are further signs of a toughening of stance by Ankara.
Ankara – a toughening of stance?
Turkey's President has said it is no longer possible to talk of a peace process with the Kurds.
Ankara says it expects "solidarity and support" from its NATO allies in its action against the self-styled Islamic State group and Kurdish militants on its southern border.
There is concern that Ankara may by trying to exploit its new status as active participant to quieten criticism of its ongoing conflict with the Kurds.