Tooth: French students find oldest human body part
Comments
By
Euronews
with
France Télévisions, EBU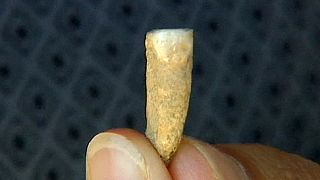 Archaeology students have unearthed what is understood to be the oldest human body part ever found in France – a tooth from 560,000 years ago.
#France teen finds 560,000 year-old tooth in cave http://t.co/1iW1GkHhkOpic.twitter.com/dKPAigEZo8

— ST Foreign Desk (@STForeignDesk) July 28, 2015
The ancient incisor predates the previous earliest discovery by 100,000 years (in French). Brings a new twist to the phrase "Long in the Tooth".