EU foreign policy chief tries to reassure Mideast allies over Iran deal
Comments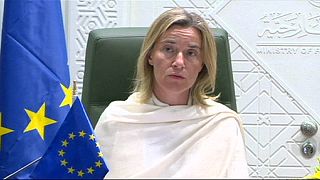 The West is attempting to reassure Middle Eastern allies about the recently signed nuclear deal with Iran.
The EU's foreign policy chief has been holding talks in the capital of Saudi Arabia, before heading off to Iran for discussions about implementing the new agreement.
Federica Mogherini, the EU High Representative, told a media conference: "It is very important for me, personally, first to pass the message that the agreement is strong and solid.
"It's first of all a nuclear non-proliferation agreement that will guarantee that Iran will not have a nuclear weapon for the next 10 to 15 years, and with solid mechanisms of a snap back of sanctions."
But in a further sign of the unease over the deal, the Saudi foreign minister spoke out with a claim that Iran has made threats against Riyadh's ally, Bahrain.