Gallery: Photos emerge of Cheney and Bush at White House on 9/11
Comments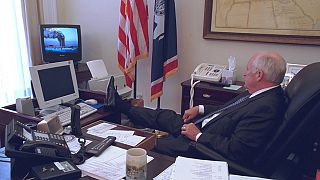 Never-seen-before photos have been released of former president George W Bush and his deputy Dick Cheney on September 11 at the White House.
The pictures were obtained as part of a Freedom of Information request by Colette Neirouz Hann, a producer from Kirk Documentary Group.
The photos show the then vice-president watching the terrorist attacks unfold on television. They also show former Secretary of State Colin Powell and National Security Advisor Condoleezza Rice in a meeting in the Emergency Operation Centre in the bunker of the White House with the then US leader, the vice-president and other figures from the Bush cabinet.
Other pictures show Cheney taken to Camp David as a precaution to protect the leadership, a standard procedure carried out by the secret services.
Hann said it was important for the public to see the photographs.
"From the first moments after the attacks on the World Trade Center, vice-president Cheney has been at the centre of much of the government's response," she said, speaking to Boston Globe.
"We knew he had a photographer assigned to take pictures of almost everything he did and have been trying to obtain those pictures — from inside the secret bunker under the White House to the 'undisclosed secure locations' where he spent the weeks after September 11, 2001.
"Now, 14 years later we finally have those photographs and the American people can see for themselves what took place in those first 24 hours."
The pictures can be seen in their entirety here.