Mexico: confronted by evidence of grisly drugs underworld
Comments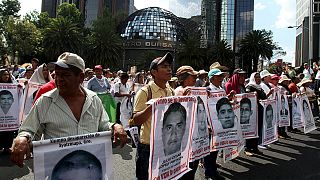 Mexico has been confronted with evidence of its grisly drugs underworld.
Investigators searching for a group of missing students have so far uncovered 60 unmarked graves containing the remains of 129 people.
The majority are male. Around 20 of the victims are believed to be female.
The sad truth is these are not the missing students, but some of the thousands of other victims of Mexico's drug-related violence.
The graves were discovered in the state of Guerrero.
The 43 students were abducted on their way to a protest in Iguala.
Anniversary of their disappearance
Sunday marked the ten-month anniversary of their disappearance. Hundreds marched through Mexico City to keep their story alive. Their families are refusing to give up hope; Epifiano Alvarez' son Jorge is one of the missing. "We will show the government that we won't stop looking for our kids," he told reporters, "not even for one day."
60mass graves found in Mexico during search for 43 students abducted there last year officials reveal http://t.co/VBgpXPNyKQmarianaatencio</a></p>&mdash; AMERICA (ThisIsAmerica) 27 Juillet 2015
The missing students – what happened?
The government says police intercepted the students on their way to Iguala and handed them over to a local drugs gang.
Gang members have confessed to their killings, claiming they were told they were members of a rival gang.