French farmers block border routes in row over 'cheap' imports
Comments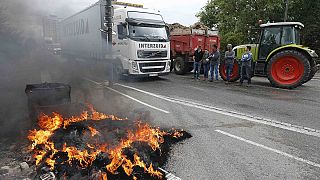 French farmers fighting what they call unfair competition have mounted blockades at the country's borders – targeting lorries bringing in foreign fruit and vegetables.
"German product, French packaging – no label giving the origin. You couldn't make it up!" said one angry farmer in Alsace, denouncing a lack of transparency about what is and is not 'grown in France'.
"Today, when customers go to buy parsley, they think they are getting a local product from Brittany, and they end up with a product that could be from anywhere," complained winemaker Didier Pettermann.
French farmers angry over low prices turn back trucks with meat, cheese at German border http://t.co/7nCMBMxUmvpic.twitter.com/MGtNxYtNSo

— Metro News Canada (@MetroNewsCanada) 27 Juillet 2015
Farmers in Alsace agreed to lift their blockades at the German border on Monday afternoon after getting guarantees that Agriculture Minister Stephane Le Foll would meet them.
Lorries coming in from Spain have also been targeted, with French farmers venting their frustration at what they say are different
norms and costs within Europe which put them under pressure.
"The rules aren't the same in our two countries, even with other neighbouring countries, which means that their production costs are lower than ours, as regards standards and taxes," said Guillaume Darrouy from the Young Farmers' Trade Union.
President Francois Hollande says he will fight for decent prices for French farmers but a package of loans and debt relief agreed by his government after earlier protests has failed to assuage their anger and the dispute continues.