Turkey defends strikes on PKK and ISIL in Iraq and Syria
Comments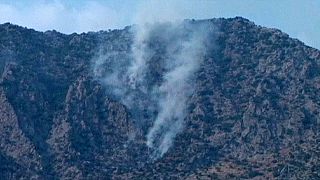 Video footage obtained by Reuters on Saturday (July 25) showed the aftermath of Turkish air strikes on Kurdistan Workers Party (PKK) camps in Iraq.
The footage showed smoke rising from the forests of the Qandil mountain region where the PKK camps are located. It also showed footage of damaged homes and the remains of exploded shells.
The attacks have called into question the two-year-old truce between Ankara and the Kurdish militant group.
Turkish fighter jets and artillery have also struck ISIL targets in Iraq and Syria.
Ankara said the campaign would help create "safe zones" across large parts of northern Syria.
"We have always acted to bring stability to both countries, because we see them as part of the same picture. There have to be safe zones and no-fly zones in Syria. We always underlined that the solution of the Syrian problem is political. A solution without (President) Assad," said Turkish Foreign Minister Mevlüt Çavuşoğlu.
Reports say Turkey and the US have agreed a joint military plan to clear ISIL out of the Turkish-Syrian border area.
Turkey, which has already reinforced its military presence along the frontier, says it will allow the Americans to use the strategically important air base of Incirlik to launch air strikes against ISIL.
Critics say President Erdogan is using the campaign against Islamic State as an excuse to crack down on Kurds.