Tokyo 2020 unveils Olympic and Paralympic emblems
Comments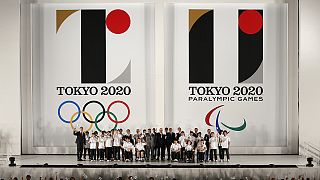 Japanese organisers revealed Friday the emblem of the Tokyo 2020 Olympic and Paralympic Games, five years to the day before the opening ceremony.
The unveiling took place at a ceremony at Tokyo City Hall and was attended by Tokyo organising committee president Yoshiro Mori, Tokyo governor Yoichi Masuzoe and IOC vice president John Coates.
The emblems, designed by Japanese artist Kenjiro Sato to represent the unity of the Olympics, is based on the letter "T" for Tokyo, tomorrow, and team.
The black central columns symbolise diversity, while the red circle symbolises an inclusive world in which everyone accepts each other and the power of every beating heart.
"The Tokyo 2020 Olympic Games emblem is a powerful symbol of Tokyo's Games vision," said Coates. "By embracing the concept of unity in diversity, it shows the unique ability of the Olympic Games to bring together people from all over the world in peace and harmony."
"Its inclusiveness and its representation of the power of the human heart is testament to the spirit in which the Tokyo 2020 Olympic Games are being prepared.
"They will be a global celebration that we can all be a part of and enjoy.
"Most importantly, this emblem represents Tokyo and its people. It reflects the vibrant nature of the city and the welcoming spirit of its citizens – two elements that the Olympic athletes in 2020 will fully appreciate.
"I congratulate the Tokyo 2020 team on their work and believe that this emblem will have an important influence on the future of Olympic design."
Mori also added: "Let us all unite our efforts under the new Games emblems and work together as one to ensure the realisation of a truly inspirational Olympic and Paralympic Games in 2020."
The ceremony will come as a welcome distraction for the Japanese government who, in recent weeks, have come under fire following the controversy over a new national stadium.
The Japanese government had initially selected a design by award-winning architect Zaha Hadid, but after construction costs nearly doubled to 252 billion yen, a decision was made to scrap the project in its entirety.
The construction of the new stadium was supposed to start in October and be completed in time for the 2019 Rugby World Cup.
Officials, however, has since launched another international design competition, meaning that the new stadium is unlikely to be ready until spring 2020.