French farmers union slams product dumping across EU
Comments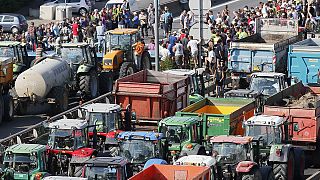 As many as 15,000 farmers came together to protest in Lyon and they were joined by Xavier Beulin the president of the FNSEA, the main agricultural workers union.
Xavier Beulin, président de la FNSEA, est l'invité d'Olivier Emond pic.twitter.com/G0VBO6td

— France Info (@franceinfo) February 19, 2013
He explained the situation facing the industry in France: "We have production costs that are far higher than our European neighbours. Not just at the farming level, but across the food chain from the abattoirs to the processing plants. There is often a five or six euro pay difference in terms of salary within these companies. We also have regulatory constraints, which go further than any European regulations and they hurt us.
We saw a year ago, as a result of the Russian embargo, some product dumping from our partners
they would send French products back in order to sell their own goods on the domestic market. If that is Europe it has failed.
Again there has been other instances of product dumping. Last year the nectarine cost one euro in the Madrid markets, they were sold in France for 40 cents. So if there is dumping between European partners what kind of Europe are we constructing."
The talk of the euronews office is the farmers who are blocking roads all around our Lyon HQ. They are protesting about the price of meat http://eurone.ws/PZV6e

Posted by euronews on Thursday, 23 July 2015
The union met with French President Francois Hollande early on Thursday and the president lent his support to their cause and called on supermarkets and abattoirs to work with farmers to increase meat and milk prices for the producers.
The dispute is far from over.