Dozens of African migrants feared drowned off Libya
Comments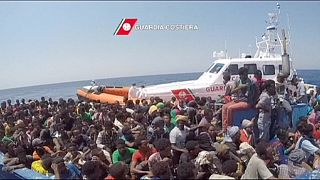 Up to 40 African migrants are feared drowned off the coast of Libya.
Survivors who came ashore in Sicily after being rescued by a German navy ship told aid agencies that their boat had started to fall apart shortly after putting to sea near Tripoli.
The ship brought nearly 300 migrants, most of them men, to Port Augusta on Sicily's eastern coast.
The UN aid agency said the dead came from sub-Saharan countries such as Benin, Mali and Senegal.
The Italian coastguard says 2,000 migrants have been rescued in a 24-hour period.
Eight rescue operations were carried out by ships from Italy, Germany, Malta and Sweden.
The International Organisation for Migration says 150,000 migrants have come to Europe by sea this year from sub-Saharan Africa and the Middle East.
Many don't get that far – and end up in Libyan detention centres, where evidence of rough conditions has been uncovered by Britain's Sky News.
Its investigation into people smuggling heard that traffickers manage to escape the authorities thanks to their money and power – while migrants' families pay the smugglers more money to get their relatives out of jail.