Greece moves closer to bailout talks as Syriza divisions remain
Comments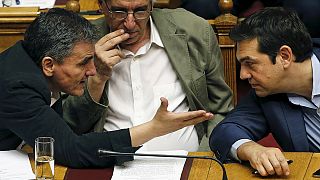 The Greek parliament took a step closer to negotiations on an new €86bn bailout after MPs voted to reform the judiciary and banking system.
Parliament approves prior actions, Tsipras gains more support from SYRIZA MPs http://t.co/0vn4HaotLSpic.twitter.com/xSayytACzA

— Kathimerini English (@ekathimerini) July 23, 2015
As the government of Alexis Tsipras appears to be moving toward the demands of the international lenders he is facing a rebellion within his Syriza party.
Tsipras urges Greek parliament to back crucial bailout bill http://t.co/kIdDQM9M11 by @kjalee#Photo by @ArisMessinispic.twitter.com/3BVHoTYywP

— Agence France-Presse (@AFP) July 22, 2015
Tsipras received the support of 230 MPs with 63 voting against the reforms, 31 from his own party.
Zoe Konstantopoulou, the Syriza speaker of the parliament, is a fierce critic of the reforms:
"I have a good and honest sense of comradeship with the prime minister, we both share the belief, desire and commitment to safeguard what is right for the Greek people."
Zoe Konstantopoulou (Presidenta Parlamento -- Syriza) volvió a ser durísima ayer con el acuerdo. Volvió a votar NO. pic.twitter.com/fH3KKnDX5T

— Principia Marsupia (@pmarsupia) July 23, 2015
In a heated debate Tsipras said he did not approve of the deal, but he was under immense pressure to accept it.
He will now work towards seeking a better outcome for Greece when talks reconvene on Friday.
Our correspondent in Athens Stamatis Giannisis believes the divisions within Syriza will continue to fester: "The aftermath of the vote on the first bill, following the new agreement with the country's lenders, has exacerbated the divisions between the supporters of Prime Minister Tsipras and his parties left-wing hardliners, and it is just a matter of time before civil war brakes out inside Greece's ruling party."